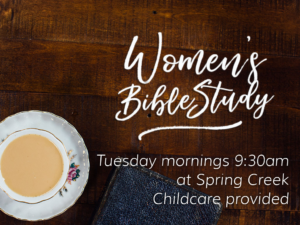 Tuesdays, 9:30am at Spring Creek
Come join the women of Spring Creek as we gather together around God's Word!
We will be sharing our lives, praying for one another, and
learning how to study the Bible and putting it into practice.

A small group of women committed to support one another in a Christ-centered, Bible-rich journey of hope and healing from sexual trauma. Using Dr. Diane Langberg's resource for survivors of sexual trauma as a guide, we desire to provide a safe place where the light of God's love and truth can shine into the darkness of tragedy and lies. If you are ready to find hope and healing, we want to be a community who will not only listen to your story but love you as Christ loves you through the ups and downs of this difficult journey.
Our current group is fully committed but we are always open to help in what ways that we are able. Please fill out the secure form by following the link below to receive more information from the group facilitator. We promise to keep your information confidential. The information from this form will be sent directly to the group facilitator and will not be accessed by anyone else.